6 stage filtration
Pre-filter with Nano Silver: pre-filters PM10 and large pollutants such as dust, hair and fiber, easy to wash
High efficiency HEPA filter: removes airborne particles such as pollen, cigarette smoke and other PM2.5 allergens.
Activated carbon filter: removes bad odors, captures benzene, formaldehyde, VOCs and other harmful gases.
Low temperature catalyst filter: effectively decomposes formaldehyde, benzene, ammonia and VOCs.
Ultraviolet sterilize light: Rapidly kills viruses and bacterial.
Anion purification: Anion generated in the space improves air quality and environment
Easy to replace all filters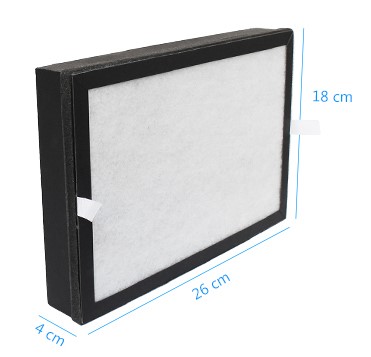 UV germicidal lamp
Integrated UV-C germicidal lamp can effectively eliminate bacteria and viruses in the air preventing them from spreading. It can be switched on and off manually.
Air quality sensor
Green: Good, Orange: Mediocre, Red: Poor.
The air purifier will automatically switch to High-speed Mode when the air quality is poor.
Wall mounted design
This product can be placed on the desktop because of the compact design but when mounted on wall it best fits any space.
Remote control
Easy to control with remote while it is mounted on the wall
Additional drawer
Storage for optional activated carbon bag or essential oil bottle as aroma diffusor
1 or 3 hour timer setting
Automatically shut down after 1 or 3 hours of working
3 Speed Modes
provides Sleep / Medium / High speed options for different conditions
Integrated Air Ionizer
releases 5,000,000 pcs/cm³ negative ions with on/off control
Additional Information
Shipping from
Croatia
Color
White
Warranty
2 years
Back in stock
May 30, 2020
Business guarantee
1 year
Technical data

CADR: 74 m³/H
Ideal for spaces up to 20 m²
Power: 8 W
Motor: DC motor
Dimensions: 334 × 129 × 295 mm
Weight: 2,5 kg
Noise: <50dB
Sensor: air quality, odor sensor
Housing: ABS
Touch control panel + remote control

Pre-filter with Nano Silver
Low temperature catalyst filter
Activated carbon filter
0.01um high efficient HEPA filter
254 nm UV sterilizer lamp
5 million/cm³ negative anion